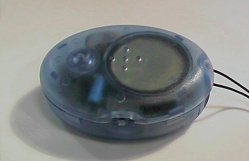 The C2 Compass is a miniature hand-held battery-operated eight-point compass with voice output and auxiliary color indication. The compass is contained in a semi-transparent light-blue enclosure. At the top there is the speaker and the activatation button. A three-position slide switch on the side is used to switch the compass off (central position) and select one of the two in-built languages or voices.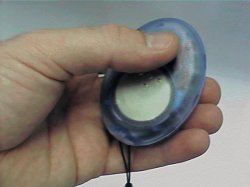 Applications

Novelty gift item


Mobility tool for vision-impaired people


Jogging accessory


Carry it in a car


Recreational use


The compass pronounces the eight compass points in clear digitised speech. There are two languages to select from (these can be determined at the time of order). Most major languages are supported and others can be added upon request. Customized voices, as well as alternative colors of the enclosure, are available for volume purchasers.

The in-built color indicator (visible through the semi-transparent enclosure) can be used to determine the direction in noisy conditions.
Technical Specifications
Type
Solid-state digital compass
Detection
8 cardinal points
Power
2 x 12V battery (A23, MN21 or GP23A)
(not included)
Indication
Digitized speech (in two selectable languages)

Size
75 x 50 x 25 mm (3 x 2 x 1 in)
Weight
61 grams (2.2 oz)
Specifications are subject to change without notice.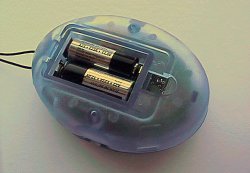 The C2 Compass relies on standard 12V batteries (the type commonly used for remote controls and other miniature appliances).

Order it here!