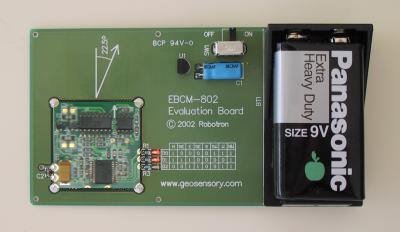 (Battery not included.)
The EBCM-802 Compass Module Evaluation Board is designed to demonstrate the RDCM-802 miniature compass module. The board contains one RDCM-802 module in a convenient arrangement, including a battery holder for a standard 9V battery, a power switch, regulator, and indicator surface-mount LEDs which turn on and off according to the geographical orientation of the board.

Applications

Robotics


Industrial


Scientific


Educational


Toys

Technical Specifications
Accuracy
± 5°
Tilt tolerance
± 10°
Settling time
500ms max.
Hysteresis
± 5°
Supply voltage
9Vdc (PP3 type battery - not included)
Supply current
25mA max.
Output indication
3 red SMT LEDs
Operating temperature
-5° to +60°C
Storage temperature
-25° to +75°C
Dimensions
103mm (L) x 56mm (W) x 22.5mm (H)
4.055" (L) x 2.205" (W) x 0.886" (H)
Technical specifications are subject to change without notice.

Order it here!