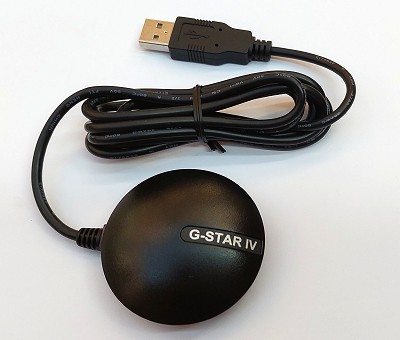 GPS-1200-U Receiver (USB Version)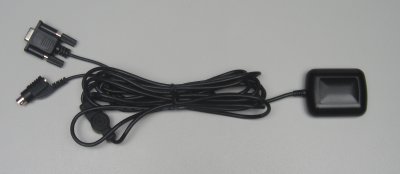 GPS-1200-S Receiver (Serial Version)
The GPS-1200 is a miniature GPS receiver module, suitable for a direct connection to a computer (for example a laptop), to provide fast and cost-efficient GPS implementation.
The receiver comes in two versions, a USB interface version (GPS-1200-U) and a serial interface version (GPS-1200-S). The tiny receiver contains its own antenna, and derives its power from the host computer interface. A CD ROM with drivers for Windows 95, 98, ME, 2000 and XP is supplied for the USB version. The serial interface version does not require any drivers. The output format complies with the NMEA0183 standard, making it compatible with most popular mapping software, for example Microsoft Streets and Trips as well as with field strength measurement applications, such as WiNRADiO Field Strength Logger.
The GPS-1200 waterproof package has a strong non-slip magnetic base,
and is ideally suited for placement on the roof of a vehicle.

Applications

Navigation (marine or land)
Mapping
Vehicle tracking
Field-strength measurement
Robotics
Industrial
Scientific
Educational
Toys
Technical Specifications
General
L1 frequency 12-channel continuous tracking
Update rate
1 Hz
Sensitivity
-170 dBW
Accuracy of position
15 m (without Selective Availability)
Accuracy of velocity
0.1 m/s (without Selective Availability)
Accuracy of time
1 ms
Datum
WGS-84
Cold start time
60 s
Warm start time
38 s
Hot start time
8 s
Reacquisition of signal
1 s
Maximum altitude
18,000 m
Maximum velocity
515 m/s
Maximum motional jerk
20 m/s3
Maximum acceleration
4G (39.2 m/s2)
Operating temperature
-30ºC – 80ºC
Storage temperature
-40ºC – 85ºC
Humidity
Max. 95% non-condensing
Interface
USB or Serial
Power
5V ±5%, 90mA (via interface)
LED indicator
OFF: Power OFF
ON: Searching
FLASHING: Position fixed
GPS output protocol
NMEA 0183 SiRF binary: position, velocity, altitude, status
Serial transfer protocol
User configurable (default 4800,N,8,1)
Cable length
1800 mm
Dimensions
59 mm (L) x 47 mm (W) x 21 mm (H)
Package
Water-proof with non-slip magnetic base
Technical specifications are subject to change without notice.

Order it here!